American CES Exhibition perfectly ended on January 9th, 2016. Aimed at promoting the close combination between advanced electronic techniques with modern life, CES is one of the most influential annual consumer electronics technology exhibitions for its strong profession and good trading effect. Numerous exhibitors tried their best to play all their cards in CES. However, the most attractive one was 184 automatic-drive manned vehicle exhibited by EHANG.
The novel high-tech product certainly requires a unique exhibition stand. Therefore, the designer from LANKAM created an exhibition stand with sufficient mysterious feelings of science and technology up to everyone's expectation.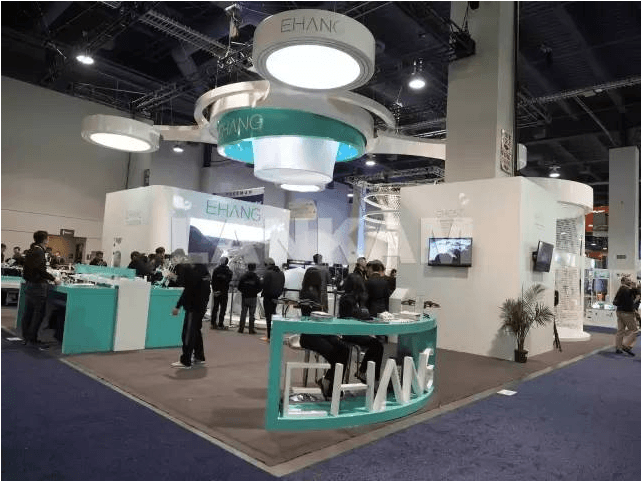 The unique suspended ceiling gives people an imagination of UFO representing ultrahigh technology. Actually, the design inspiration comes from EHANG unmanned aerial vehicle in UFO shape. The 4-arm shape represents the prosperity of EHANG Company. From the overall perspective, every arm is an area, while the UFO in the middle seems like an incubator of the latest featured product, 184 automatic-drive vehicle from the future. This shape represents that human-beings observe the world from different perspectives, explore unknown universe, and pay respect to mysterious world.
In the presentation of EHANG184 automatic-drive manned craft, Xu Xiaoping, the founder of ZhenFund who is the angel investor of EHANG, encouraged EHANG in the platform, and displayed Ghost2.0 "first-person" aerial photography technology with virtual reality google. Domestic and foreign media got together and made the exhibition standing of EHANG bustling.
Undertaking the exhibition design of EHANG, LANKAM Exhibition has the honor to improve with national brand and make its own contribution to the development of national brand. It is believed that EHANG will lead China to fly to the whole world in the future.