The dusk is blooming between the glass curtain walls in New York. With car light on, the peak is coming. The evening is as the same as usual. However, if you look around, rather than Facebook on the way someday, you will suddenly see--
In such exhibitions, you can understand one thing and know one person steadily. I think it is much more important than knowing 1,000 people and appreciating 1,000 works.
Two years ago, this couple, an engineer and an administrative assistant in film studio, lives in Los Angeles. The husband who is a normal science graduate, loves photographing, and the wife has a dream of writer. On one day, a spark of life turned up suddenly in an evening talk. They don't want to live like the current anymore! Their inspiration burst out like fireworks.
Therefore, they decided to quit their jobs and built a little house to travel around the whole country. The husband would take photos, while the wife writes travel notes. Since then, they travel in the nation to see the wind blowing over the mountain and bright moon irritating the river. In short, they started their adventure. They sold out almost all of their property to invest in the building of motor house, and encouraged all of their friends for help, including their busy but very fashionable dog Salies…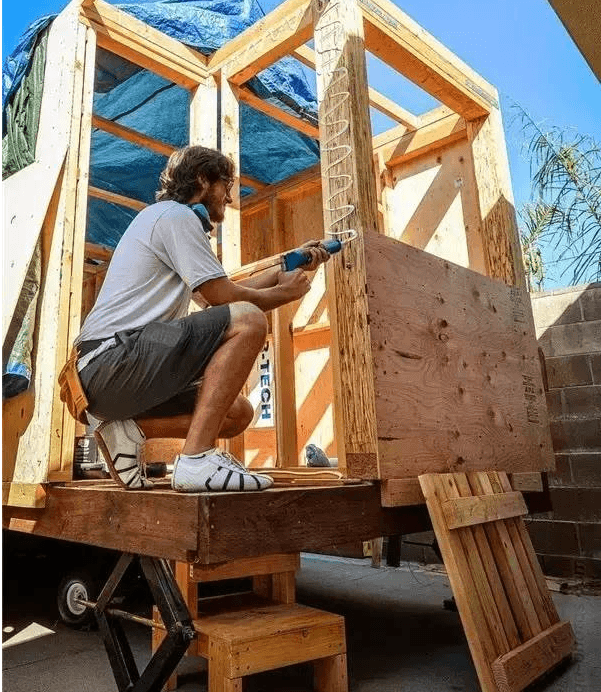 They finally realized their dream of "motor house" with more than 6,500 nails and 8,000 screws after more than 1,000 hours in one year. Eventually, they started their travel.
At present, this couple still wonders in America by their home. They are writing articles and taking photos and videos. This small house meets all of their demands. They really set out a journey with their home!